New Brand Alert - Linie Design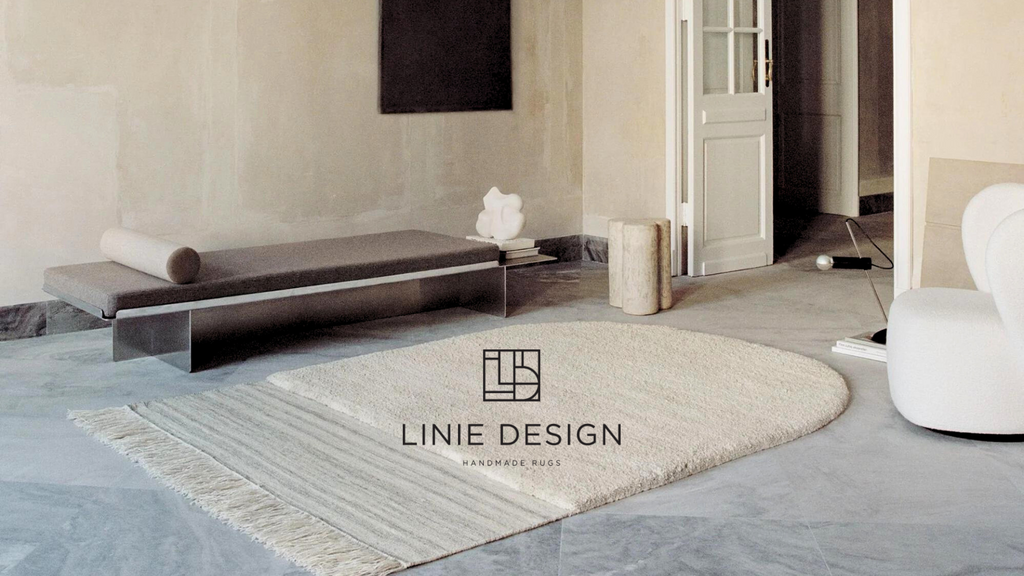 Linie Design is a 'new to us' brand arriving soon at Hut K! Our favourites, Norm Architects, had recently completed their new showroom to launch during 3 Days of Design. Located a couple doors down from Carl Hansen & Son, we walked into another stunning showroom with some of the most incredible rugs we'd seen. They have an incredibly diverse range, all top-tier quality, available at very accessible prices which can be a very tough find with rugs! 
Linie Design was founded in 1980 with the ambition of creating handmade rugs that would merge Danish design and innovation with traditional Indian craftsmanship.
One of Danish design's best kept secrets, Linie often collaborates with some of our other favourite iconic Denmark design brands like Audo Copenhagen, Louis Poulsen and Carl Hansen! Fun fact - the Linie Agner rug is the go-to rug for all of Carl Hansen's showrooms!
Why We Love Them:
A handmade rug is an investment for life and Linie Design's philosophy is just that. The brand seamlessly merges Scandinavian design principles with exceptional craftsmanship. Each rug undergoes meticulous handcrafting by skilled artisans who employ traditional techniques passed down through generations.
Inimitable style No machine can replicate the skilled hands of Indian master weavers, who using traditional methods passed down through generations to create stunning works of art for the floor. Each weaver has their own individual style, which they have built up over many years of experience. In this way, each rug expresses elements of culture, history and experience, as the weaver's story is woven into one-of-a-kind pieces of art for the floor.

Worth the wait Depending on the technique and size of the rug, an artisan can spend weeks or months to finish a rug. All handcrafted rugs involve skilled and meticulous processes, but hand-knotted rugs are by far the most intricate and labour intensive. An experienced weaver can tie an average of 8,000-10,000 knots per day, with bigger rugs requiring up to several weavers working together on one rug at the same time. This ancient and time-honoured technique is extremely time-consuming, demanding great expertise and precision that takes years of practise. Lucky for all of us, Linie Design retains stock of nearly all rugs in all sizes and colours so we get the made-to-order look without the made-to-order wait. 
History:
Linie Design's journey began in 1980 when Ole Jensen, a visionary designer, founded the brand with a passion for redefining the concept of rugs. From its beginnings in Denmark, Linie Design quickly gained recognition for its innovative approach to rug design.
Ole Jensen's unique vision was rooted in his desire to combine Scandinavian design principles with exceptional craftsmanship. He sought to create rugs that would not only enhance living spaces but also serve as works of art in their own right. With this goal in mind, Jensen assembled a team of skilled artisans who shared his dedication to precision and detail.
Sustainability:
We love a brand committed to minimizing its environmental impact and Linie Design focuses on sustainability at every stage of production. The brand carefully selects natural materials like pure New Zealand wool and viscose, ensuring durability and eco-friendliness. Linie actively seeks suppliers who adhere to strict ethical and ecological standards, ensuring responsible production that respects both people and the planet, which we applaud them for!
Linie Design's history is a testament to the brand's passion for pushing boundaries, embracing creativity, and reimagining what a rug can be. As it continues to evolve and inspire, Linie Design remains dedicated to creating rugs that not only define spaces but also leave a lasting impression on those who encounter them.
We can't wait for you to explore them with us! Keep an eye out for when our samples arrive in our showroom next month on social media ;) In the meantime, browse the collection online here.