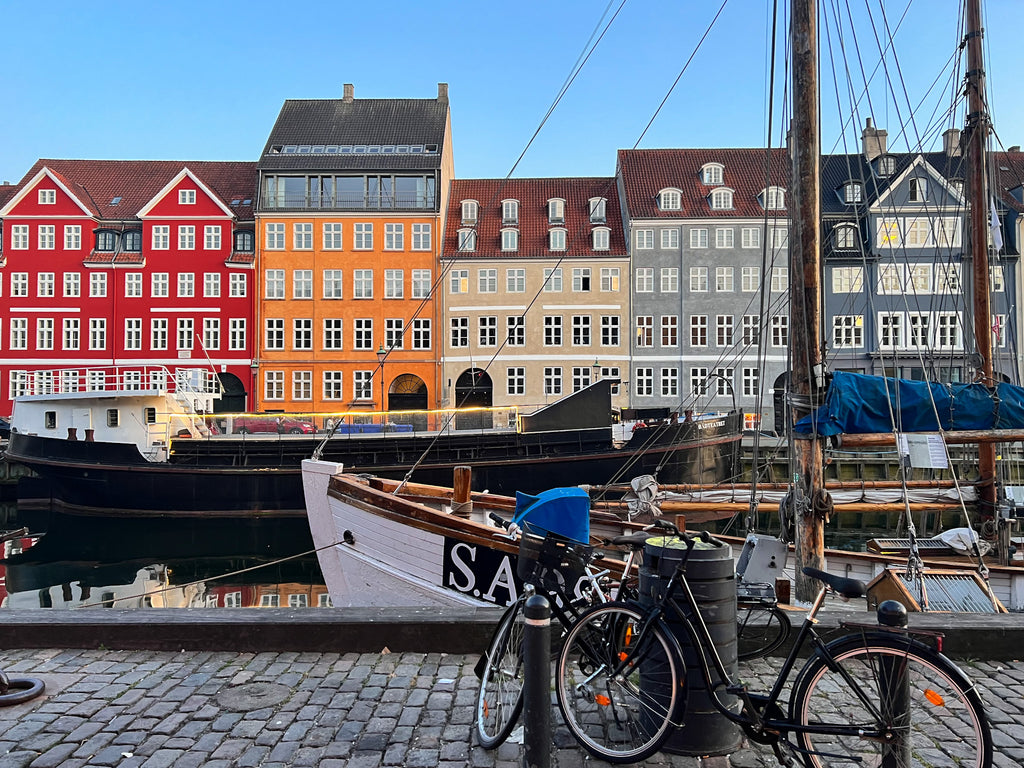 A couple weeks ago we jetted off to Copenhagen to attend the 3 Days of Design festival for our first time! It was the 10 year anniversary of the festival and with roughly half of our vendors participating in some form, we figured it was the perfect opportunity to see some new things and catch-up with our reps in person. Now that we've beat the jet lag, we're recapping a number of our trip highlights both from the festival as well as a couple other art and design hotspots we took in before the show officially kicked off.
We arrived 4 days before the show started so we could hit all the quintessential Copenhagen attractions (Tivoli, Botanical Gardens, Rundetaarn, Canal Tour, Nyhavn, Reffen food market, you name it) but two of the pre-show highlights from an art and design perspective were definitely the Louisiana Art Museum and the Designmuseum Denmark. 
Louisiana is considered a major work of Danish modernist architecture. In the well-balanced style of the late 1950's discreet modernism, the museum presents itself as a horizontal and understated building complex that fits gracefully and intimately into the landscape. Louisiana has thus achieved a standing as one of the world's most respected exhibition venues. 
Once the festival kicked off, we had a visit to our fellow Canadians, A-N-D, on our day one agenda. We were able to chat with co-founder Matt Davis about the newly launched Vector family which will begin shipping this fall! It was a beautiful little showroom set-up which included last years launch favourites, the Column and Iris fixtures as well. 
The day one agenda then took us over to the Muuto headquarters which consisted of two floors full of the most incredible and colourful vignettes. While here, we were able to take in a talk on their use of colour and specifically colour selection which was fascinating as we've always looked to Muuto as the masters of colour. I've got the itch to paint the whole showroom and hang all shades of curtains 🌈
A quick trip across the canal and we made it to the Louis Poulsen headquarters! A small building in front of their showroom held an installation of the collaboration pieces between Louis Poulsen and Home in Heven. The ivy on the front of the building was spray painted pink with the same devil horns that were also on the one-of-a-kind PH table lamp inside. The main Louis Poulsen showroom was as beautiful and classic and expected. There was a flood of Artichoke pendants over the main hall and little alcoves throughout filled with the icons we know and love mixed in with new Autumn 2023 launches! 
Carl Hansen & Son had their 'House of Craft' exhibition set-up for the week where visitors were invited to craft their own wooden sculptures from leftover furniture production pieces. Us few lucky North American dealers got to take in a couple talks by Anna, a partner at Vilhelm Lauritzen Architects, and industrial designer Rikke Frost about their newly launched VLA61 Monarch Chair and RF1903 Sideways Sofa/Footstool. The showroom was stunning as expected but they also had an exceptional courtyard filled with the new Alfred Homann outdoor collection to lounge on during happy hour 🍷
The Flos Scandinavia headquarters were actually connected to the Louis Poulsen building and share a large, beautiful courtyard. The showroom was split up into residential, architectural and outdoor so you could take in each category on its own. You entered the residential showroom to be greeted by the 2097-50 pendant in the new white finish. Around the corner were a number of other new products recently launched in the European market that we're hoping to see on our side of the water soon! 
Audo Copenhagen was a fun one to take in as a total design experience. We just recapped our full visit to the freshly rebranded headquarters in this journal post. We got a full tour of the restaurant/cafe, concept shop, showrooms, residences and courtyard so be sure to check out our most recent post for a deeper dive on the new Audo Copenhagen!
&Tradition may have been my favourite showroom visit of the week! The sheer size and the architecture of the building they are located in make it hard to beat. Similar to Muuto, I feel that &Tradition's use of colour is done so incredibly well. You travel from floor to floor, lounge to lounge, through the archive room, to a Jaime Hayon exhibit and back down to their concept shop and cafe/courtyard. It's truly an experience and proves there's never too many Flowerpot pendants under one roof!
Linie Design was a 'new to us' brand on our radar as our favourites, Norm Architects, had recently completed their showroom to launch during 3 Days of Design. Located a couple doors down from Carl Hansen & Son, we walked into another stunning showroom with some of the most incredible rugs we'd seen. Linie Design was founded in 1980 with the ambition of creating handmade rugs that would merge Danish design and innovation with traditional Indian craftsmanship. Keep an eye out for more on Linie Design soon 👀
The HAY House is located right on the main courtyard/fountain on Strøget, so it's always buzzing with people, but especially during 3 Days of Design! Also a multi-level showroom, it was mainly divided up into areas of 'current' products but dispersed were a whole ton of Autumn 2023 launch products. We've always been big fans of HAY and how diverse, fun and functional their product range is. With new talks of revisiting their North American dealer relationships, we're hoping to have some exciting HAY-related news for you in the coming months!
Helle Mardahl is an artist and designer whose work encompasses sculpture, installation, painting, fashion and interior design. I've had her blown glass pieces on my wish lists for years as I've watched her climb to fame but actually getting to visit the apartment was such a highlight! Each room was decked out in full Helle Mardahl candy-wonderland style. It was wildly fun!
Montana Furniture is another Danish company taking something utilitarian and making it so much more beautiful and colourful than you'd typically see here and we're all for it. Their showroom was such a fun representation of what they do. The 'Colours of Comfort' exhibition was debuting 3 new colourways to their already diverse range. Like most other Danish showrooms, each room was it's own unique colour palette but they all worked together in such a harmonious way.
We hope you enjoyed our 3 Days of Design recap even a fraction of how much we enjoyed our time at the show! Next years dates have already been confirmed for June 12-14th if you're looking for your own travel and design fix. Copenhagen is worth visiting time and time again and this show was so enjoyable to attend!