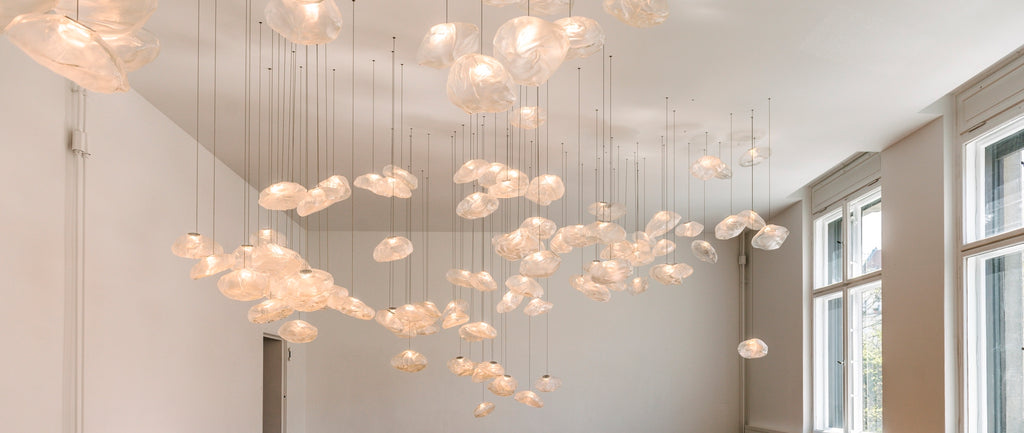 We strongly believe that a light source can be both functional AND beautiful.
Here are our (current) top ten favourite pendant lights available at Hut K.
Inspired by a resting drop of water, the Fluid Pendant Lamp shows how soft light can diffuse across a space for a cosy atmosphere. The frosted glass and organic shape give a soft feel and we like it both as a solitaire piece or combined in different sizes. Browse
here
. 
We love the practical playfulness of the Flos Aim pendants! Created by the Bouroullec brothers in 2010, the Aim pendant is a design stripped to its most basic essence. The innovative way of being able to adjust the hight and direction of light is simply to the point on this beauty of a pendant. Browse all options here. 
Made in Vancouver and highly customizable, what is not to like about Bocci 14 pendants!? They are a piece of art and can be combined in so many fun ways. The neutral clear glass make them a perfect fit for any home while giving off a beautiful light. Bocci generally has the quickest lead-times with most lights arriving in only 2 weeks. Browse 14.1's here. 
The Ginger pendant in wood, or different metal finishes, gives a diffused light thanks to the dissipater. With simplistic lines, we love how this pendant discreetly light up spaces. Browse more here. 
Tom Dixon's Melt pendant looks surreal. In our eyes - the perfect blend of exquisite and futuristic. Turned off it appears opaque, but once switched on it becomes translucent. It is a great fit if you are looking to add atmospheric light to your home. Browse here. 
When we look at the Heracleum pendant we feel it's like looking at stars scattered over the night sky. It is unique in every way and provides a soft and spread out light perfect for a dining table. Also available in a linear version which can be added on for additional length. Browse here. 
Dancing pendant reminds us of the tutu on a ballet dancer. Although large in size, it remains elegant and is a true favourite of ours. It is a great dining table pendant in a larger space. Browse here. 
With its uniquely slim profile, the Slab pendant is super graphical and suits numerous spaces like corporate offices; crowded restaurants; the dining room, and more. And made in Canada in a range of different sizes and a number of standard colours or don't see what you like? Order in a custom colour! Browse the collection here. 
The Bobber pendants delivers light, beauty and some unexpected hues. Bobber features a dimmable LED light source with an opaque Acrylic diffuser to provide warm and even enlightenment to any space. These are the perfect lights over a kitchen island offering plenty of focused light for the tasks at hand! Browse the collection here. 
Arrangements is a modular system of geometric light elements that can be combined in different ways, creating multiple compositions into individual chandeliers. Each unit simply attaches onto the previous one as if resting, balancing perfectly as a part of a glowing chain. Use the configurator here. Stunning in a double volume space like a foyer or staircase! Browse here and contact us for pricing based on your selection!