Our Design Community - Ola Hiraeth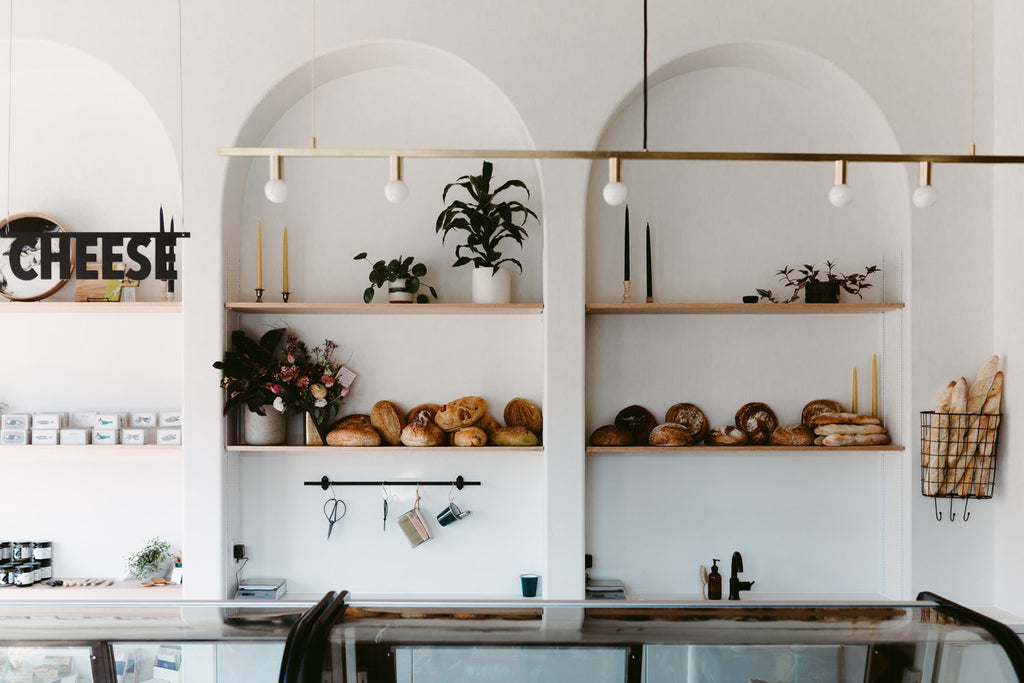 Our Design Community is our new series where we visit and talk with different firms within the Winnipeg design community about their approach to design and what made them fall in love with their work.
In our first feature we are visiting the Ola Hiraeth team, a quartet of inspiring women whose goal is to create highly livable spaces.
Please, introduce yourself
We are Renee, Katie, Tanya and Lauren.
How did the name Ola Hiraeth come into being?
T: Before Ola Hiraeth came together I had a design studio named Studio Ola. I'm the type of person that when coming up with a business name I'll have a list of 1000 names, and Ola was one of them. I grew up in Brazil and Ola is Portuguese for hello. I liked that it felt relatable and I liked the simplicity and immediacy of it.  
R: Similar to Tanya, I was Studio Hiraeth. Hiraeth is a welsh word. It is one of those words that is difficult to translate into English, but essentially it can mean a longing for a place from your past or maybe a place that doesn't even exist, but it's this feeling of being home. I just found that it was a word that related to design, designing spaces and placemaking. So when the two of us joined forces, again we had a list of 1000 names. But then we thought, what if it's simple? What if it's Ola Hiraeth. It's a wacky name but we love it.
It is always interesting to hear the backstory of a name when it is somewhat unusual. The combination "Ola Hiraeth" sounds very fitting to what you do. It would translate into something along the line of "Hello Home", right? Thank you for sharing that with us. That leads us nicely to the next question; Has Winnipeg always been home for you?
R: Myself, yes.
K: No, not for me. I've lived here 5 and a half years now and before that I was living in Halifax for a little while which I loved so much, being on the coast. Before that I grew up in Toronto.
T: I've mostly lived in Winnipeg. I was in Brazil between the ages of 5 and 12, but otherwise I've been here. 
L: I've lived in Winnipeg my whole life as well. 
What is it about Winnipeg you find especially captivating?
K: I just love Winnipeg. It is such a hearty city and the people here are adaptable. It feels to me like Winnipeg has time and space to offer. Winnipeg breeds such interesting people and artists and I think a lot of that comes from the way that people are able to exist at a slightly slower pace than in a big city. I think that's what I mean by time and space, you know, that you can afford to live here and you can afford to slow down a little bit and be more intentional about how you want to live. And it is so sunny! 
When did your love for interior design begin?
T: I think for me it started really early. I would be driving in the car with my family and imagining the layouts of interior spaces I couldn't see from the outside. I'd rearrange the interior of peoples homes just while driving by. But then I did an Art History degree for my undergrad and took a class with Serena Keshavjee in modern architecture and design and that's when I became more seriously interested. I moved to London for a year and my goal was to explore the art galleries, and I ended up being equally drawn to the design of those spaces. 
R: I feel like for myself it's so similar. I used to love going for walks or being in the car at night time because you could see the lights on in someones house. I didn't care so much about the exterior of the home, but was more interested in what was happening on the inside. I enjoyed seeing how people lived in spaces. You could imagine the character of the human in that space because of how they prepared their environment. I've lived in Winnipeg my whole life, although I've been fortunate to travel a fair bit, but in Winnipeg you spend a heck of a lot of time indoors! I think it's a Winnipeg condition and it makes you consider your space and how to maximize your interior space to make it comfortable for such a huge portion of the year. I think that probably most Winnipeggers are interior designers in some ways because you need to adapt your environment to make it suitable for very long periods of time. 
Who or what are some of your biggest design inspirations?
T: I think all of us are really invested in the natural world. Each of us get a lot of life from being outside. We talk a lot about hikes we've gone on, our camping trips, and rivers or lakes for swimming. All of this we are so fortunate to experience here in Manitoba. We are not always so literally trying to bring the outside-in, but I think that nature and its many forms are what we often look to for inspiration. While there are many designers and architects we admire and derive inspiration from, we gather a lot of inspiration from the clients we work with and from the site we're working from. The context is inspiring to us because every site and client is unique and that feels exciting. We can dive deep into those elements because each of those parameters can make the project come to life and keeps our work feeling new. 
I think we've already touched on this a little bit, Tanya, but when designing for your clients, what are some of your key ingredients that you find are particularly important to think of?
T: We think a lot about how people will use their space and how they'll want to feel in that space. We try to think through the role and function of each room and corner. Is the point of the space to engage in lively conversation or is it to retreat and recover alone. Trying to think through our daily needs as people helps us through many functional and aesthetic design decisions. 
What is an element or ethos you hope to bring into your clients home through your design?
K: When hearing this question I relate to what Tanya was just talking about. I think about how the space will be used and adapted in time. We talk about this in our studio, and it was something that I thought a lot about when I was in school. The design doesn't end when we part with the project, you know, when it is "completed". It will morph and transform in time and so we often think about designing in such a way that invites those who will be using the space to impart their influence or leave their mark. That is a very key element to how we design.
L: I can add on to that because I am the newest person to the team here, but what drew me to them was that when I saw a (Ola Hiraeth created) space it always felt like home. There are some spaces that when you walk into them you feel like "Oh I don't want to sit on this couch because I might wreck it." And then there are spaces with elements that are comfortable and the environment feels warm and cozy. That is so important because the interior impacts so much of us.
R: In terms of what Katie and Lauren were saying, we see so often that spaces can be over-designed resulting in a prescriptive quality and you can't really add to it with your own artifacts or leave your mark on the space. We strive for simplicity to allow for some adaptation over time that allows for peoples objects to have room and to take up space - or for plants to grow in a space. This goes for both residential and commercial spaces. There's an importance in a range of different types of spaces as well. Sometimes you'd like an enclosed space and other times you need an open space and we try to think about those necessary varying conditions when we design.
Which of your projects are you particularly pleased with?
R: We feel so lucky to work on so many inspiring projects with a varying range of scope, it keeps our job so interesting. There is one residential project that we have been working on for the last couple of years that is coming very near to full completion. The home is just outside of the city and was originally built in the 1950's. Throughout time the house has seen many lives, additions and changes. We wanted to honour the original character and context as both a retreat in nature and a space for entertaining. Approximately 1200 sq ft. of the original home was demolished and rebuilt. It was an exercise in paying homage to the original while bringing the home into the contemporary context. Space planning was a pivotal part of the process in order to create good flow and a range in spaces for both intimate and social engagement. Great care has been taken throughout the process to use natural, long lasting and timeless materials and design language so that the home remains comfortable and relevant for many years to come. We have been able to make some wonderful selections for lighting and furniture as well [a few great Hut K pieces too!]. 
We are so very pleased with how all of the pieces are coming together and can not wait to share more!
Which is your favourite Hut K item?
K:  My mind immediately goes to lighting and I love Flos lights in particular. The Diabolo is my favourite and I love that it comes in so many great colours.
T: Nani Marquina's textiles are so beautiful. I love the colour range of the Shade Rug. It feels timeless and I also appreciate that you can customize their textiles to any size. But there's so much to choose from at Hut K.
L: I'm with Katie on the Flos lights. I love the 1960's cocoon style of the Taraxacum, Zeppelin, Viscontea and Gatto lights and how they create a glow in the room. I love to have one of those in my home.
R: One of the things I love most about Hut K is that you have historic furniture as well as contemporary furniture and I am such a sucker for Carl Hansen & Søn. I love that era of furniture and the details that go into the craftsmanship. I love all of those pieces! 
What does a typical day look like for you?
T: Our days have shifted since the pandemic when remote working took off. We now are in the office 3 days a week for meetings with clients and other collaborative work. We are at home the other 2 days, trying to get more of the focused design work done. One of the most special parts of being at the office is our lunch hour. We always make a point to eat a studio lunch together - it is almost like a picnic lunch. It will usually involve someone's loaf of sourdough bread, some cheese, fresh tomatoes, and the salad and cookies from Black Market across the street.  
If we were to peek into your own home, how would you describe the aesthetics?
T: If people were to peek into my home they might not hire me, haha. 
R: They would! It is so beautiful!
T: It's fine. All of my furniture was bought before I decided to be a designer. I have a hard time letting go of pieces that are comfortable and the environmental side of discarding your furniture matters to me too. But I really love my home. It's worn-in and well-loved at this time, but I am also ready to evolve.
R: I moved a few years ago and I had the opportunity to move into a space that I had designed. It has always been a dream of mine to do. My husband and I bought my dads house of which I had designed the interior for him years ago. So it does reflect some of the aesthetics of our studio. The design was also a study on the prairies. My dad grew up on a farm and there is a simplicity to it (the space), there's a lot of white but there's also a lot of organic features. It's mostly natural materials. We collect a lot of art and our kids art, so it's a neutral palette but it's also filled with a lot of life.
Do you have a favourite room or corner in your home?
T: Our house is over 100 years old, built in 1912 I think.  The kitchen has really low windows so it wasn't functional for typical kitchen counters. We built a low 18" L-shaped cabinet underneath the windows and put a butcher block on top. It's become a wonderful perch for many aspects of life. My kids are always there, and people when they come over always seem to find that spot. 
K: My favourite room in my home is my 3-season porch. I live in an apartment building that faces the river and every spring we gain a new room in our home when we open up the door to the porch. It has windows on all three sides so you feel like you are up in the trees with a view of the river. I have a daybed tucked in the corner covered with a whacky mix of textiles and it feels very much like a cottage in there!
R: It's funny because I love corners and I mentioned to my husband the other day that there's not enough corners in this house. I like being in a cozy space. I feel like I really enjoy my kitchen space and it feels in a way like a corner of the house and you have the view of the rest of the space from there. I do feel comfortable there.
L: For myself, I've actually lived in the same house my entire life as I still live with my parents. I feel like I know every corner of my house. Every space is kind of special because I know it so well. You know, there's just elements throughout my life that I can see through the physical structure of it. It's like a time capsule.  
To wrap it up, is there anything you would like to share that we haven't covered?
T: I think we touched on this a bit, but we are trying to be really conscious about the environmental costs involved with our line of work. Renovations produce a lot of waste and we are trying to be thoughtful of the impacts of our design decisions. We are always looking for new ways of addressing this problem, but one of the main ones we keep coming back to is trying to slow things down by using timeless forms, and beautiful and natural products and materials that have lasting value. We want our clients to love these spaces for good. 
K: It ties back into what we talked about with ethos. We like using materials that support that idea and also design a lot of integrated pieces and things that are built in. When something is built in, it has an element of permanence. That's part of why we tend toward that direction. These spaces are meant to last. 
Ola Hiraeth create beautiful spaces and we absolutely love their work. Join their world by following their Instagram account, or learn more about them on their website if you enjoyed this read.